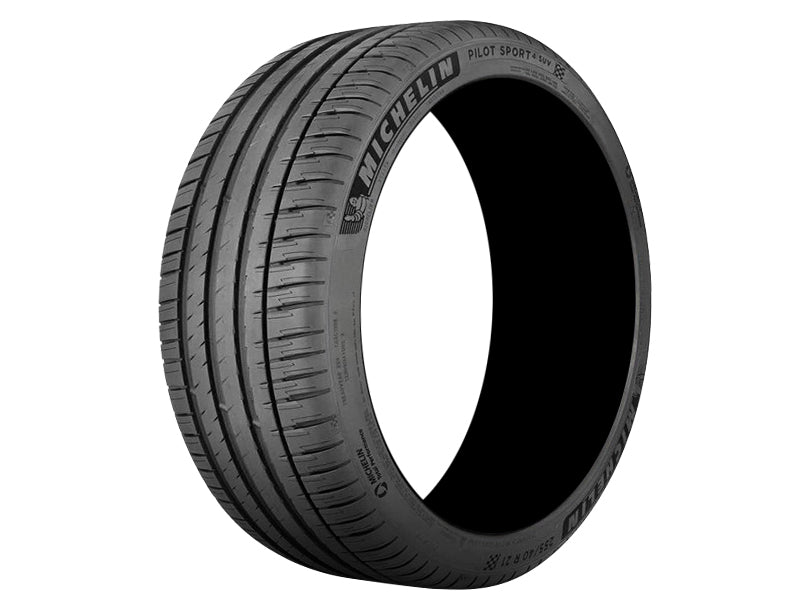 MICHELIN® Pilot® Sport 4 SUV
HIGH-PERFORMANCE SUMMER SUV
High-Performance SUV Summer Tire
UTQG: 220 A A
DESCRIPTION
Enjoy your ride, we take care of the rest. The MICHELIN® PILOT® Sport 4 SUV turns your SUV into a sports car.

---
FEATURES
Outstanding Grip + Safety
With its asymmetrical tread pattern, enjoy 11% better-wet braking and 4% better dry braking vs. the Latitude® Sport 3. The new compound mix uses innovative elastomers and thin silica for excellent grip and braking on wet roads.
Excellent Longevity + SUV-Dedicated Robustness
Rigid blocks on the tread pattern are optimized for longevity. The high-density double casing is used for tire robustness. The tire's hybrid belt is made of aramid and nylon to protect the sidewall and steel belts.

Premium Sidewall Design + Rim Protection
MICHELIN®'s premium touch finish provides a dark velvet effect on the external sidewall, while a deep rim protector guards against potential light wheel damage.

All in One
MICHELIN® TOTAL PERFORMANCE™ reflects our focus on whole tire life, delivering excellent targeted features and benefits with no compromise in other areas. Furthermore, we ensure that all our tires have PERFORMANCE MADE TO LAST, delivering, by design, an exceptional level of long-lasting performance… so that our customers can enjoy the full potential of the tire throughout its entire lifespan.
NOTES

Tires are being sold together with NEUSPEED wheels purchase. We do not sell tires by themselves.

If you don't see your tire size please call and we will quote you over the phone. We are one of Michelin's Technical Partners, we have access to all automotive passenger tires.