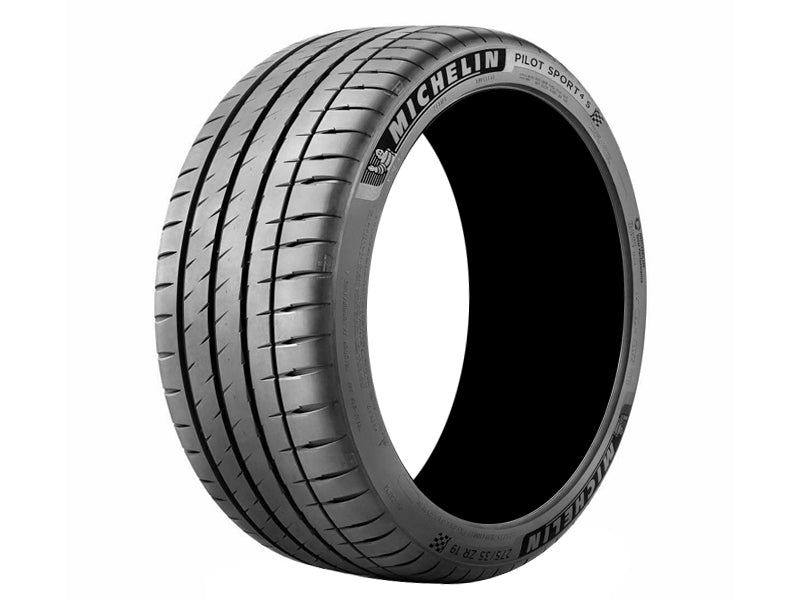 MICHELIN® Pilot® Sport 4 S
MAX PERFORMANCE SUMMER
Maximum Performance Summer Tires
UTQG: 300AA A
DESCRIPTION
Genuine Passion. Exceptional Drives. Derived from the legendary MICHELIN® PILOT® Super Sport, there is a new #1 in max performance summer tires.

---
FEATURES
Maximum Combined Performance.
Fall in love with your car's untapped potential with the best max performance tire. Our Dynamic Response Technology continuously adapts to the road for ultra-precise steering, outstanding cornering power, and remarkably good treadlife for a summer tire. And, MICHELIN®'s revolutionary Multi-Compound Construction delivers unmatched levels of dry and wet grip exactly where you need it.
9% Better Treadlife than its Predecessor
MICHELIN®'s Total Performance™ overcomes the usual tradeoff of wear for grip to deliver both incredible traction and improved tread life.
Premium Design and Rim Protector
MICHELIN®'s premium touch finish provides a dark velvet effect on the external sidewall, while a deep rim protector guards against light wheel damage.
All in One
MICHELIN® TOTAL PERFORMANCE™ reflects our focus on whole tire life, delivering excellent targeted features and benefits with no compromise in other areas. Furthermore, we ensure that all our tires have PERFORMANCE MADE TO LAST, delivering, by design, an exceptional level of long-lasting performance… so that our customers can enjoy the full potential of the tire throughout its entire lifespan.
NOTES

Tires are being sold together with NEUSPEED wheels purchase. We do not sell tires by themselves.

If you don't see your tire size please call and we will quote you over the phone. We are one of Michelin's Technical Partners, we have access to all automotive passenger tires.