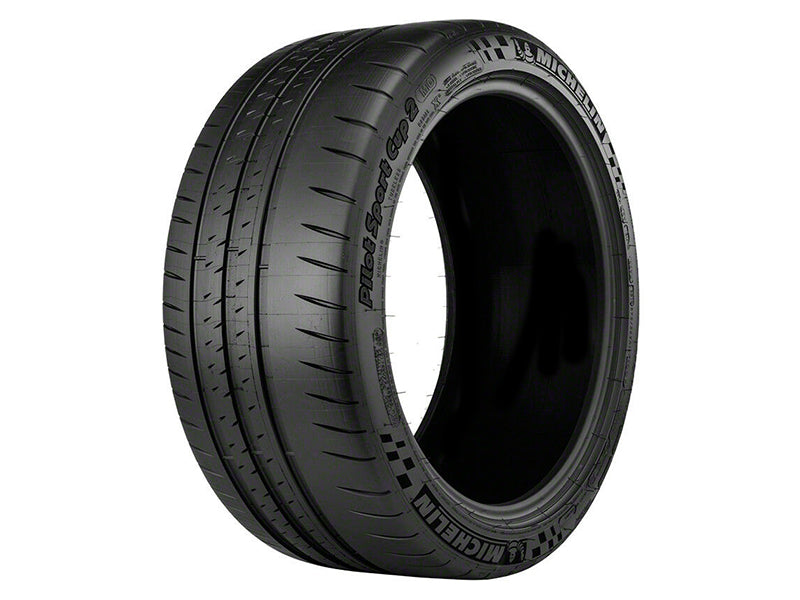 MICHELIN® Pilot® Sport Cup 2
ULTRA HIGH-PERFORMANCE COMPETITION
Ultra-High Performance Competition Tire
UTQG: 180AA A
DESCRIPTION
Track day after track day, make the most of your sports car. Developed in partnership with AMG SLS Coupe Black Series, Porsche 918 Spyder and 911 GT3, and Ferrari 458 Speciale.

---
FEATURES
Fast on a Dry Track
Bi-Compound Technology utilizes an endurance racing compound in the outer tread and a rigid elastomer in the inner tread, helping to reduce track times by up to -1.8 seconds per lap.

Faster on a Wet Track
Proven to be -1.2 seconds faster per lap with +20% deeper tread depth.

50% More Track Laps
Track Longevity Technology 2.0 combined Variable Contact Patch 3.0 with a race-inspired reinforced shoulder construction.

All in One
MICHELIN® TOTAL PERFORMANCE™ reflects our focus on whole tire life, delivering excellent targeted features and benefits with no compromise in other areas. Furthermore, we ensure that all our tires have PERFORMANCE MADE TO LAST, delivering, by design, an exceptional level of long-lasting performance… so that our customers can enjoy the full potential of the tire throughout its entire lifespan.
NOTES

Tires are being sold together with NEUSPEED wheels purchase. We do not sell tires by themselves.

If you don't see your tire size please call and we will quote you over the phone. We are one of Michelin's Technical Partners, we have access to all automotive passenger tires.