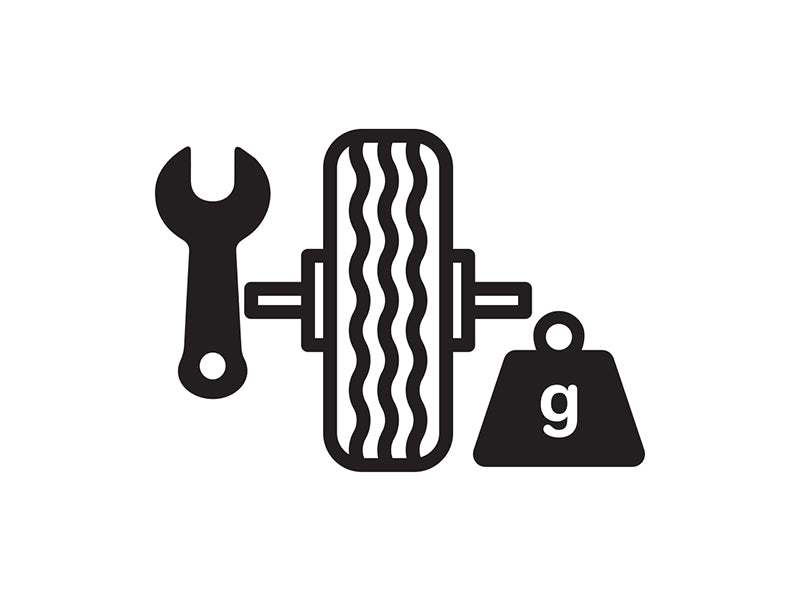 Mount & Balance
PRICED INDIVIDUALLY
PRICED PER CORNER -- ORDER QUANTITY 4 FOR A SET.
DESCRIPTION
Get your new NEUSPEED wheels and MICHELIN tires mounted and balanced by us with our state-of-the-art CORGHI touchless machinery -- no part of the wheel comes in contact with the machines.

We utilize PCD-secure mounting to our machines, not a universal center hub mount. This provides more stability during the mounting process and does not damage the paint, unlike a center-hub, cone-style mount.
Once placed on to the mounter, the wheel lip is wrapped to reduce contact with the tire and mounting lube for a cleaner and safer installation.
Additionally, we clock the wheel and tire for optimal balancing to the use of wheel counterweights. To add to that, we use low-profile counterweights down to 1/8 of an ounce -- we do not round up or down.
---
FEATURES
State-of-the-Art, Touchless Machinery.
At NEUSPEED, we never cut corners. Never have, and never will. We only accept the best possible outcome, so that our customers can reap the benefits of our products. We've invested in a top-notch CORGHI Artiglio Master-J Contactless Tire Mounting Machine and EM9580 Plus LaserLine Professional Performance Wheel Balancer.
Smart CORGHI System + "Leva la Leva" Technology
A patented system that nobody has been able to copy, the smart system never touches the wheel during any working phase, thanks to the fixed distance between the tool and wheel. This system will annul all tension on the tire during the mounting phase, thanks to the synchronized movement between the tool and wheel. This is the difference between CORGHI and the others. This guarantees a technological advantage that has remained unmatched over time.

Wheel Dimension Detection w/ Smart Arm Plus
A new digital gauge for the acquisition of the diameter and distance with the FSP(Fast Selection Program) function and new integrated LaserBlade pointer. This FSP function automatically activates the balancing program, while the LaserBlade pointer guides us in choosing the level within the wheel without any errors and with extremely good visibility.

Precision Counterweight Balancing
At the end of the spin, the wheel is braked and automatically brought to the balancing position. The integrated LED light illuminates the work area to facilitate wheel cleaning and application of our counterweights. We never use more than 2.5 ounces of weight on any wheel. If the wheel/tire is that out of balance, we will de-bead the tire and rotate it again.
NOTES

Tires are being sold together with NEUSPEED wheels purchase. We do not sell tires by themselves.

If you don't see your tire size please call and we will quote you over the phone. We are one of Michelin's Technical Partners, we have access to all automotive passenger tires.